The Arena Friday RPG/Board Game Game Ticket
Ref: The Arena Friday RPG/Board Game Game Ticket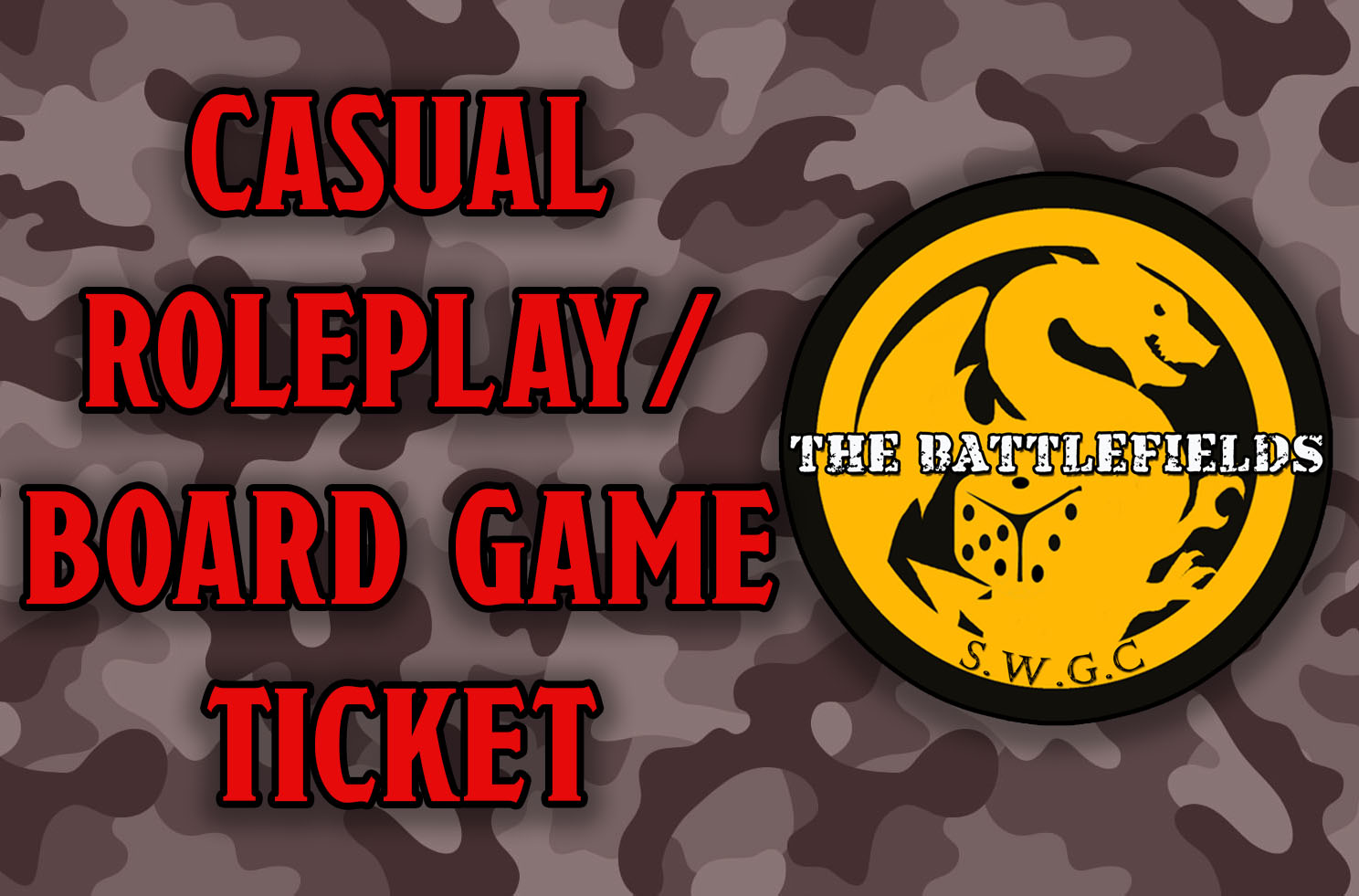 | | |
| --- | --- |
| Event Date | Friday 6th Aug 2021 |
| Event Time | 10:00 PM |
| Event Duration | 1 day |
| Players per Ticket | 6 |
£10.00
1 of 1 tickets left
The South Wales Gaming Centre and Covid-19
Please refer to the SCHEDULE tab below for important information on the protocols in place at the venue in response to the Covid-19 Pandemic.
Please refer to the SCHEDULE tab below if you would like to download and complete a contact tracing form before arrival at the venue.
If there are not 6 players put N/A in the remaining player names
For RPG Games or board games like D&D, Ticket to Ride or Settlers of Catan in a fun friendly environment.
A ticket books 1 table for 2-6 Players
Tickets must be purchased before entering the venue.
Friday: From 12:00 until 22:00
Due to the ongoing Covid-19 situation and for the comfort and safety of all our patrons and staff the following will be in place until further notice:
Opening Hours:
The South Wales Gaming Centre will be open as follows:
12:00 until 17:00 on Saturday, Sunday, Monday and Wednesday
12:00 until 22:00 on Tuesday, Thursday and Friday.
Contact Tracing Form:
Download and print our contact tracing form here. If you fill it in before you arrive and hand it in when you register you'll save time at the venue.
Schedule:
NO Free Play is available in the venue, you MUST purchase a relevant ticket, online, BEFORE entering the venue.
Battlefields tickets for wargaming, Arena tickets for casual play card games and board games and Organised Play tickets for specific events for particular game systems will be available ONLY as per the specified schedule.
This is so we can control numbers and have a record of all those who have attended on specific days for the purpose of contact tracing compliance.
The capacity of the venue has been restricted. If there is no ticket or the tickets are sold out it is because the space is full.
Safety:
In accordance with government guidelines, and to encourage social responsibility:
We will NOT sell tickets in the venue, online purchase ONLY.
We have increased our cleaning regime before, during and after the venue is open each day. Staff will regularly clean and wipe down contact surfaces.
Please follow ALL instructions from staff and adhere to all social distancing rules when in the venue.
External food is only allowed if the Café is shut. Please inform a member of staff before ordering external food and when any food delivery is expected.
All players must register on arrival and will have their temperature checked using a non-contact device. Players will be denied entry if they have a temperature.
No trading of cards or other gaming material is allowed in The South Wales gaming centre premises.
All players must complete a contact details form, provided by the venue, on or before arrival which will be kept on file and provided to the relevant contact tracing authorities if required. If these details change a new form must be completed on your next visit to the venue. Players will be asked to confirm that we have a current contact details form on file each time they visit the venue.
All customers are responsible for observing the following rules:
Face masks MUST be worn in The South Wales Gaming Centre at all times unless there is a valid medical reason not to or when eating or drinking. Children under 11 do not have to wear face coverings as per Welsh Government advice.
The maximum number of players allowed per table is FOUR for Wargaming and Card games.
The maximum number of players allowed per table is SIX for Roleplaying and Board games
Please adhere to current social distancing guidelines whilst in the venue particularly when not seated at a table.
Please avoid touching any objects where possible - this includes, but is not limited to, other peoples' person or property including dice, miniatures, cards, or gaming aids and any terrain.
Please wash your hands regularly and use the sanitiser provided around the venue. Particularly after touching your mask. Avoid touching your face.
Please do not visit the venue if you are feeling unwell or have a temperature.
A one strike policy will operate. Any breach of instructions, social distancing or relevant protocols will receive a single warning from a member of staff. If there is a second reason to warn someone during a single visit to the venue, they will be required to leave immediately.
Free Play:
For card games, board games and roleplaying games Free Play is the ability to turn up at the venue and use our tables if not taking part in an organised event. Free Play is not currently available at the venue. You must purchase a ticket online before arrival.
Battlefields Wargame Ticket:
A Battlefields ticket will allow you to use our tables and/or terrain in The Battlefields area of the venue and will offer two choices:
Entry with a current Battlefields Membership (free)
Day Membership (£4)
Battlefield tickets will generally be available whenever The South Wales Gaming Centre is open.
Players with a valid Battlefields membership MUST still register by 'purchasing' a ticket before arrival at the venue. If you consistently book a place with Battlefields membership and do not turn up your membership will be cancelled.
Players MUST sign in using their Battlefields PIN code on arrival at the venue.
Players cannot move or alter the scenery on their table once it is set up, gaming mats and scenery will be set up by the venue. If changes are required these must be discussed with and then performed by a member of staff.
For games such as Star Wars: X-Wing, Bloodbowl, Guildball and any GW boxed game such as Kill Team, Underworlds and Warcry; players must 'purchase' a Battlefields Entry ticket and will be allocated a suitable table on arrival.
Arena Card Game Ticket:
An Arena ticket will allow players to use our tables for playing card games. Participants will receive, subject to availability, a relevant booster pack and/or promo material on arrival.
Arena tickets will generally be available whenever The South Wales Gaming Centre is open.
Organised Play Ticket:
Organised Play is where participants can ensure they play their chosen game at a regular time and place, often receiving promotional material or relevant merchandise for participation and/or how well they do in the event.
Organised Play Tickets will generally be available as per the following schedule:
Tuesday: Magic the Gathering Draft and DragonBall Super CG.
Thursday: Final Fantasy TCG. MTG Modern and YuGiOh TCG
Friday: Magic the Gathering Commander, Standard and Wargame Kindling Club.
Saturday: YuGiOh TCG.
Tickets for this event are non-refundable.
Firestorm Games
This event is brought to you by our experienced Firestorm Games event staff.