Final Fantasy TCG Spring League (TOP 8) - Invite Only Online Event
Ref: The South Wales Gaming Centre Online Event Organised Play
| | |
| --- | --- |
| Event Date | Monday 17th May 2021 |
| Event Time | 11:59 PM |
| Event Duration | 6 days |
| Players per Ticket | 1 |
£7.50
Sorry, there are no tickets left for this Event.
Welcome to The South Wales Gaming Centre Online Organised Play.
This ticket gives you entry to the "Final Fantasy TCG" Online Spring League Top 8 event commencing:
Quarter Finals: May 17th/18th
Semi Finals: May 19th/20th
Grand Finals: May 21st/22nd
All Players MUST join our SWGC Discord server here: https://discord.gg/b5twsgA to play in an online event.
Do NOT purchase this ticket if you have not qualified for the Top 8 via the Winter League in December
Player pairings will be posted on the Discord channel
Format is 2 Deck Format / Playset Rule (one card pool across the two decks).
Decklists must be submitted before the start date in the Discord privately to an admin.
Unlike the league - you cannot change your decks after top 8 begins
Players will have a minimum of three games in the event.
Games to be played as per the relevant instructions on the Discord channel.
Game results must be posted in the Discord channel directly after the game finishes
Prizes:
1st - Garland Winner Mat, Trophy, Foil Cyan, 2x Non-foil Aerith promo, 6 booster packs
2nd - Foil Cyan, 2x Non-foil Aerith promo, 5 booster packs
3rd/4th - 2x Non-foil Aerith promo, 2 Non-foil Cyan promos, 3 booster packs
5th-8th - 1x Non-foil Aerith promo, 2 Non-foil Cyan promos, 2 booster packs
**FF7R Reunion mat to be raffled**
Please be sure to read our online code of conduct and also the relevant instructions on how games are to be played. These can be found on our Discord Server on the relevant channel.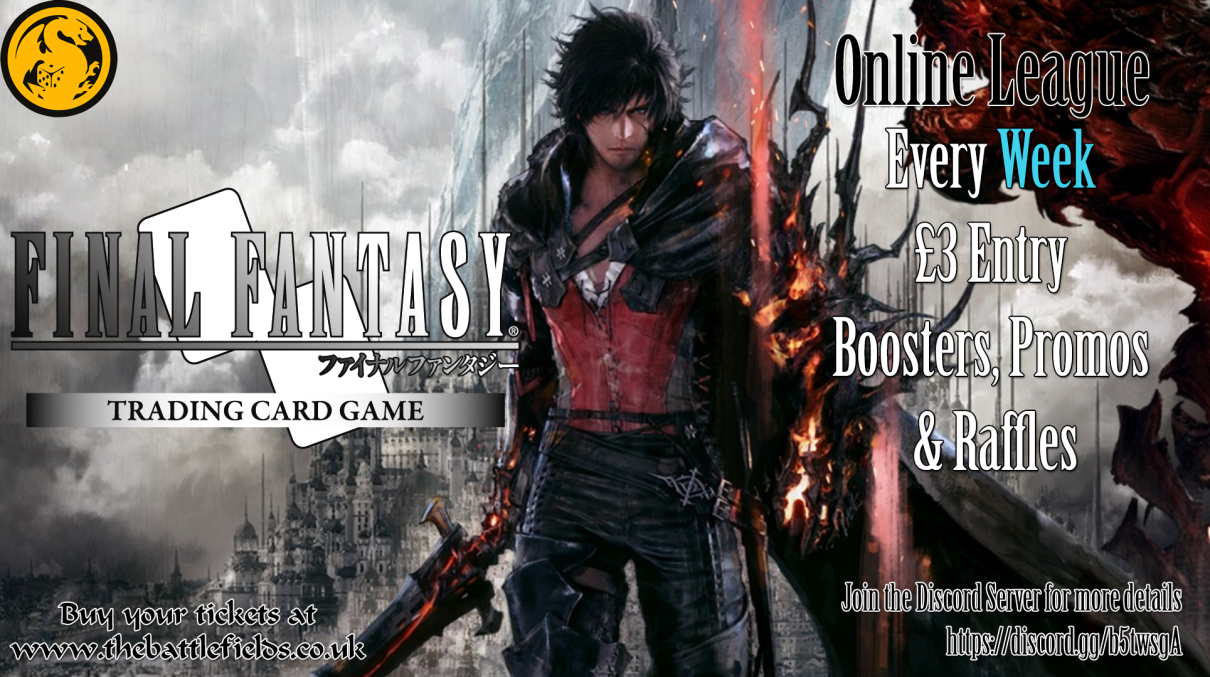 Tickets for this event are non-refundable.
Players keep the participation prizes, and subject to availability any relevant promo material, that they selected when they purchased their ticket.
The boosters allocated as prizes may vary from week to week depending on availability and the current release schedule.
Players who win the event, and subject to the number of players place well, will be awarded, subject to availability, additional prizes for winning.
Winner prizes will be detailed each week before the current event starts.
Each player has their own drop box at the Firestorm Games Cardiff store to which their prizes are added for each online event that they participate in.
Players can can collect their accrued prizes from Firestorm Games Cardiff at any time during normal store opening times.
Players can request any accrued prizes be shipped to them, for a small charge, by emailing sales@firestormgames.co.uk
Firestorm Games
This event is brought to you by our experienced Firestorm Games event staff.