Events
Infinity: Firestorm Uprising After Action Report
Welcome to the second ITS event of 2018 here at Firestorm Games; the Firestorm Uprising! This tournament report will cover rankings, faction breakdowns, some of the top army lists and my personal musings of the event.

The Firestorm Uprising took place on the 23rd of June, with a 22 player showing using the Treason ITS (Infinity Tournament System) Prize Pack. The three missions played across the day were Annihilation, Safe Area and Hunting Party, requiring a bit of variety between players lists to accomplish the varied objectives required.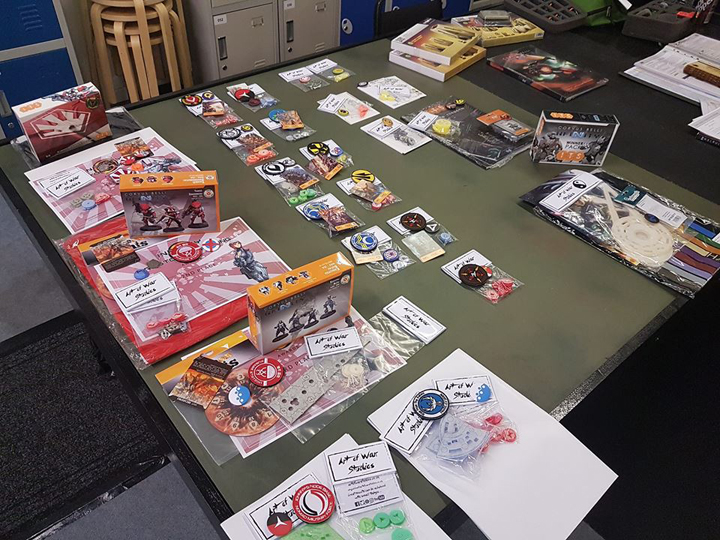 The Prize Support on offer for the Firestorm Uprising!

Faction Breakdown.
We had a 22 player attendance from a registered 24 with a very diverse attendance from all factions and a skew towards Yu Jing, Ariadna and the newcomer army; the Druze Bayram Security Force.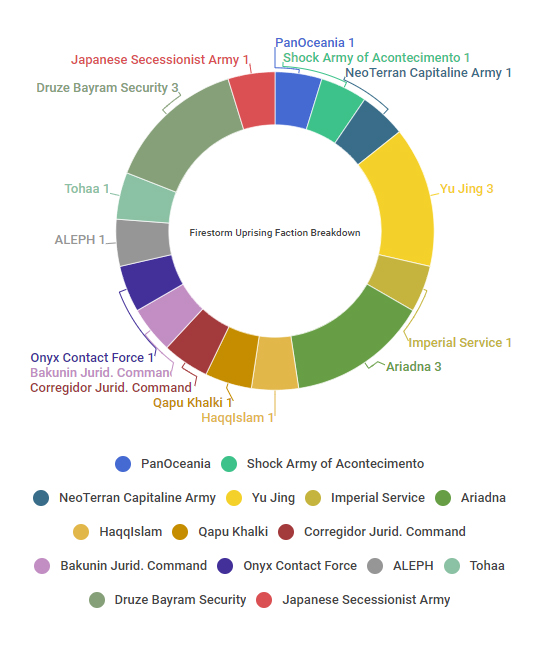 A nice even split across each faction, with a spike for Yu Jing, Ariadna and Druze Bayram Security. The real surprise here was the lack of any vanilla Nomads!


Ranking Report.
The tournament was a 3 round event, with a duration of 2 hours per round. The mission format was determined by our Treason ITS Pack, with the missions Annihilation, Safe Area and Hunting Party. We also used the additional modifier of authorising Spec-Ops for the event, with up to 12XP being spent on each factions Spec-Ops.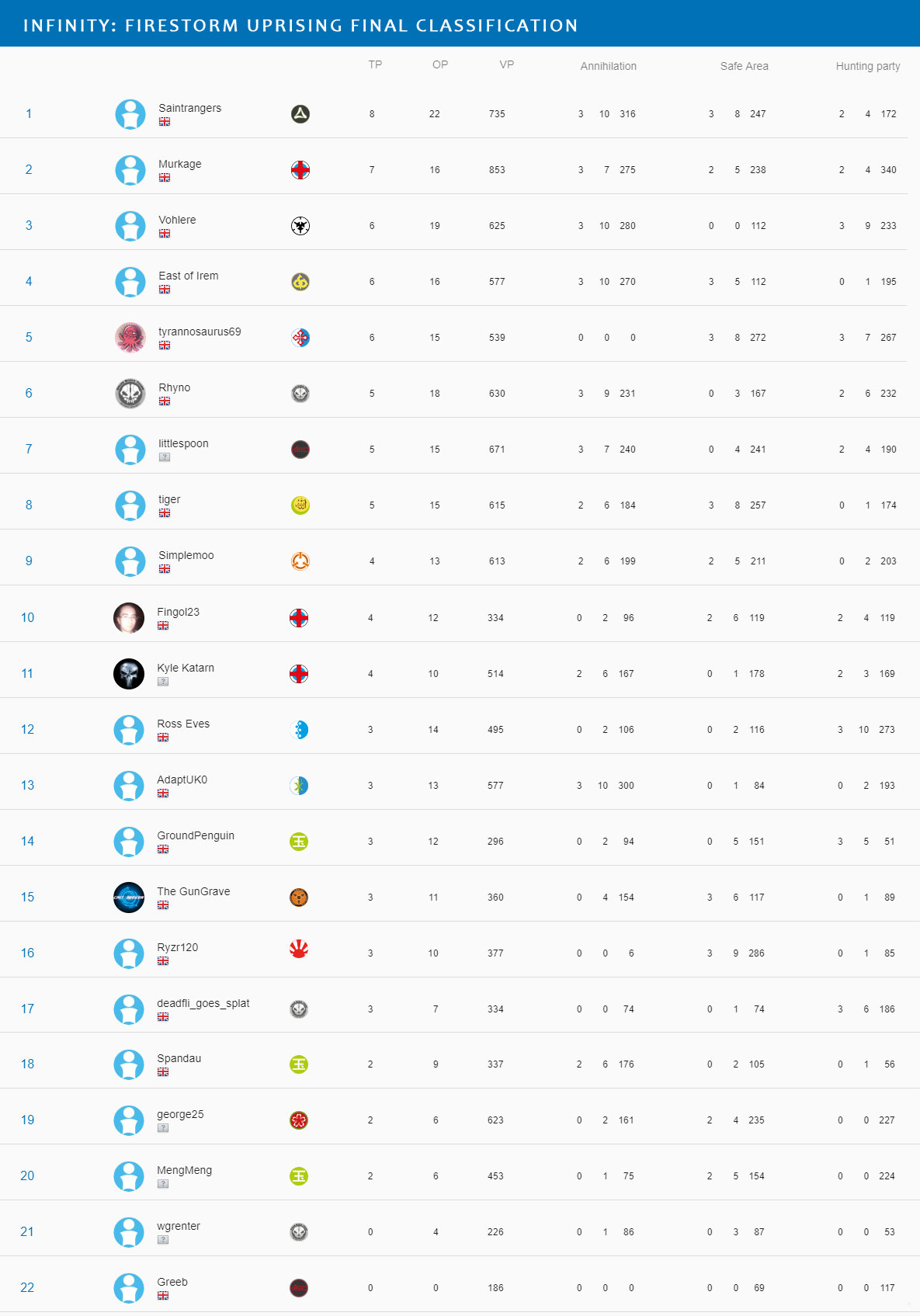 Taking the win was Saintrangers' Tohaa via Tournament Points.


Top 3 Winners Army Lists.

1st Place – Saintrangers (Tohaa).
Saintrangers' first list is a very aggressive Tohaa list for Direct Action missions like Annhilation & Hunting Party. Featuring double Sukuel, double Sakiel, double Kaeltar & double Makaul. The Hatail Spec-Ops with a Holoprojector can easily blend into any of these for a flexible Fireteam: Triad.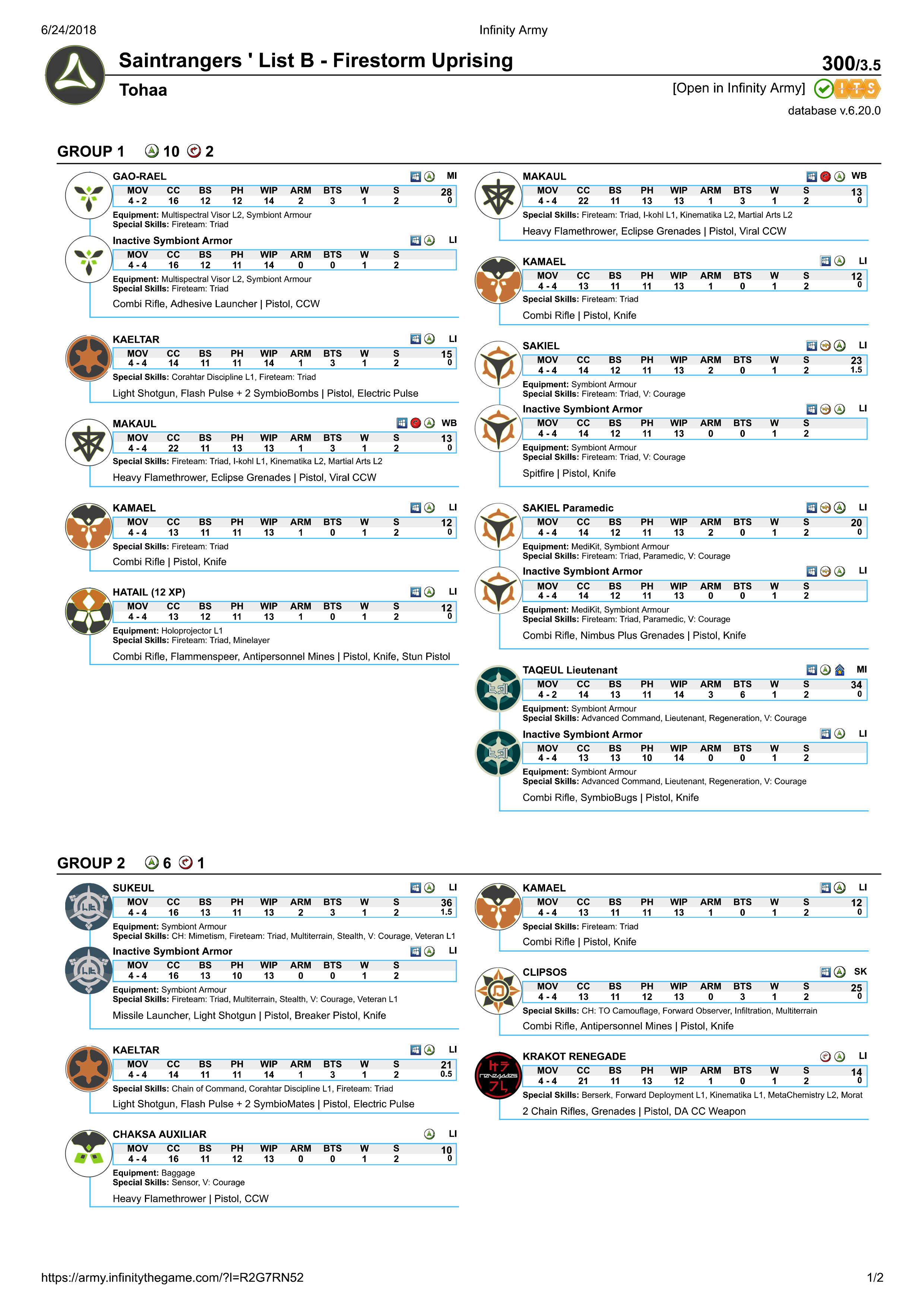 Saintrangers' second list was more skewed towards versatility, featuring a Gao-Rael (great for Hunting Party with that 3-Burst Adhesive Launcher!), a Holoprojector Hatail Spec-Ops and a Taquel Lieutenant for the extra Command Token.

2nd Place – Murkage (Ariadna).
Murkage has asked me not to submit his tournament lists as they are also being used for an event in two weeks' time.

3rd Place – Vohlere (ALEPH).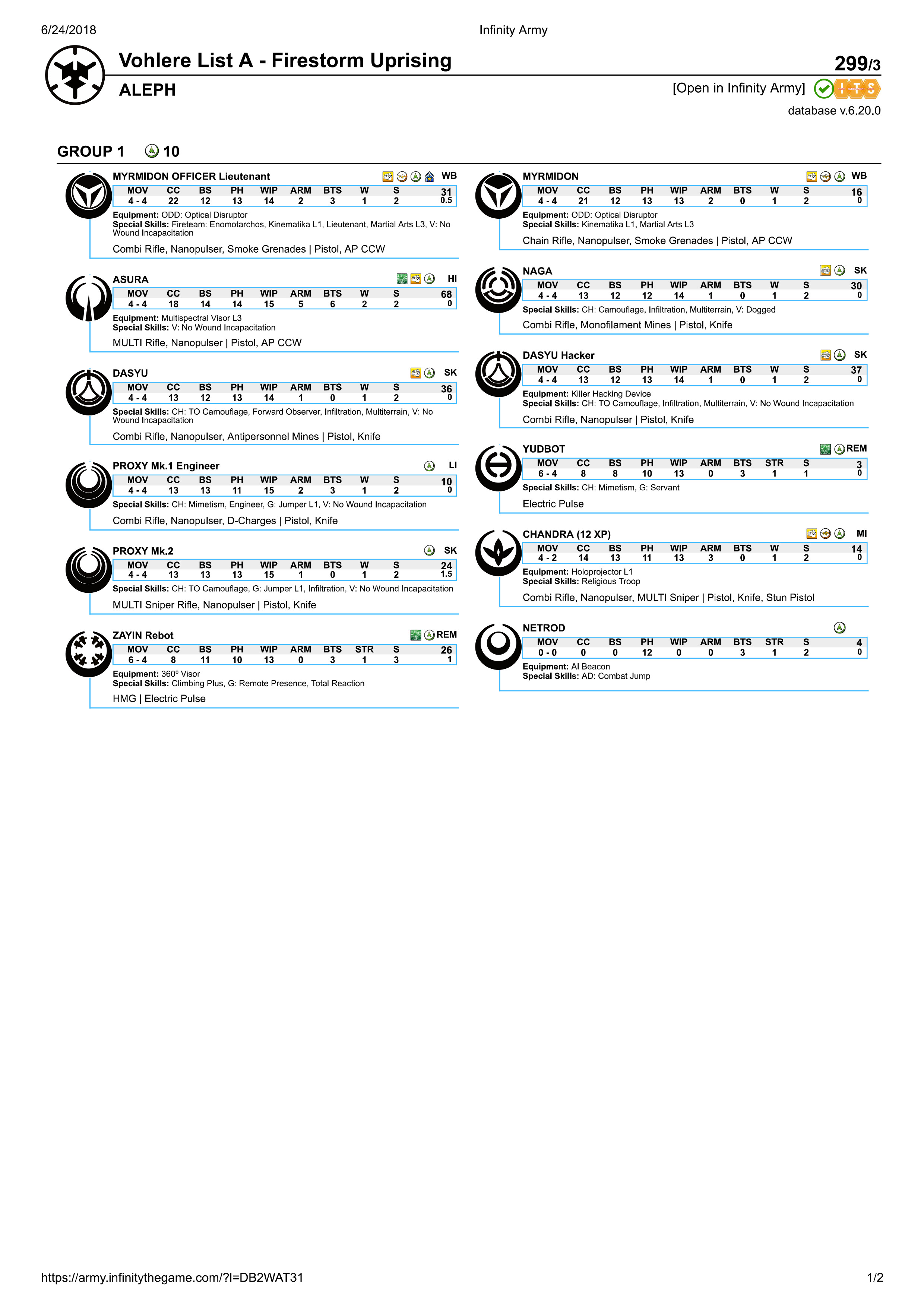 Vohlere's first list is nicely balanced with some Posthumans, Dasyu's, a Naga, Asura MSV3 and a Chandra Spec-Ops with a Holoprojector. A versatile list.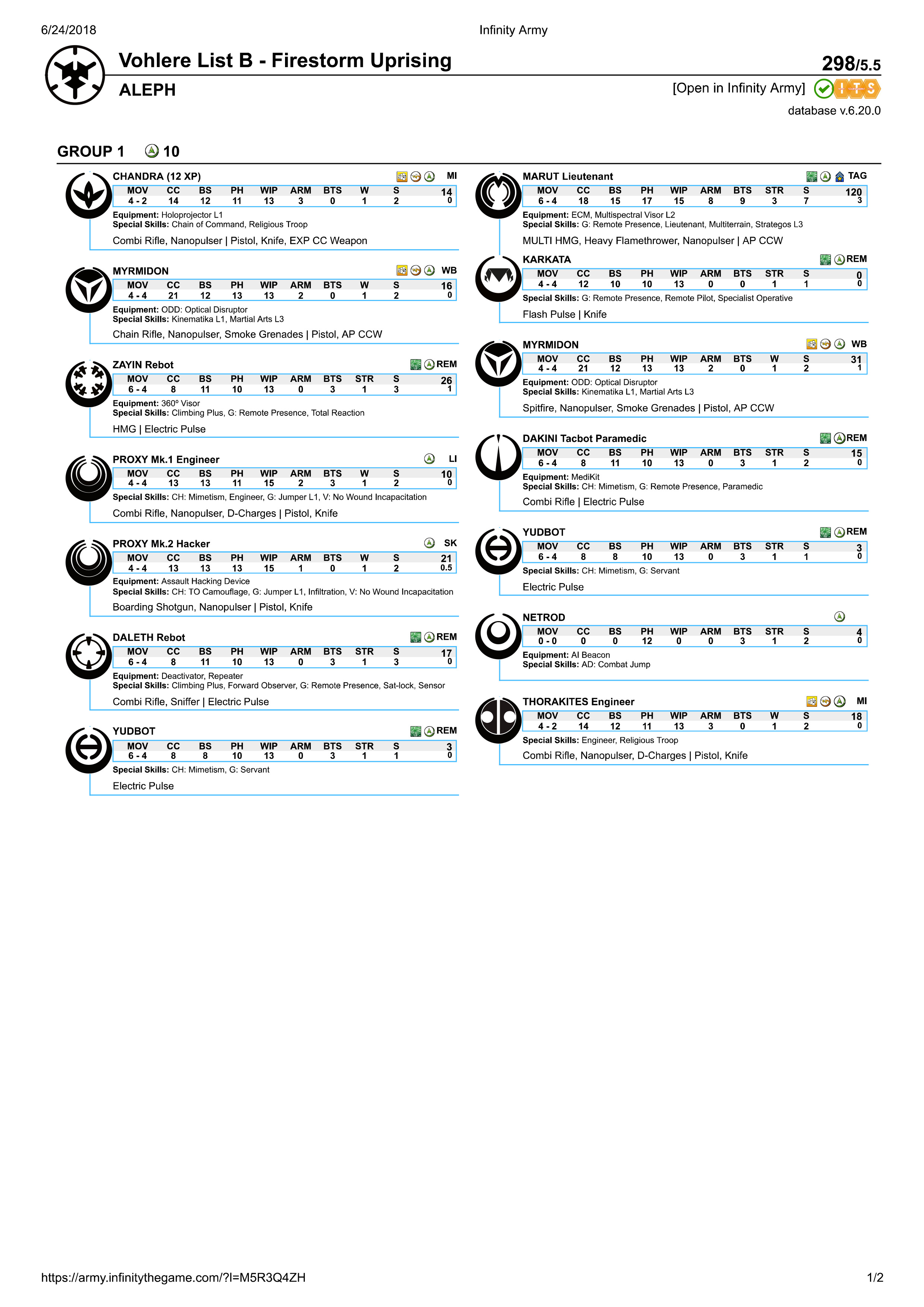 Vohlere's second list is definitely more sledgehammer, with a Marut TAG Lt taking the majority of the lifting in the list, with a Zayin Total Reaction Remote and some Posthumans for support, with a Chandra Spec-Ops with Chain of Command to round off.

Armies on Parade.
Here are some of the painted armies that qualified for this events painting competition.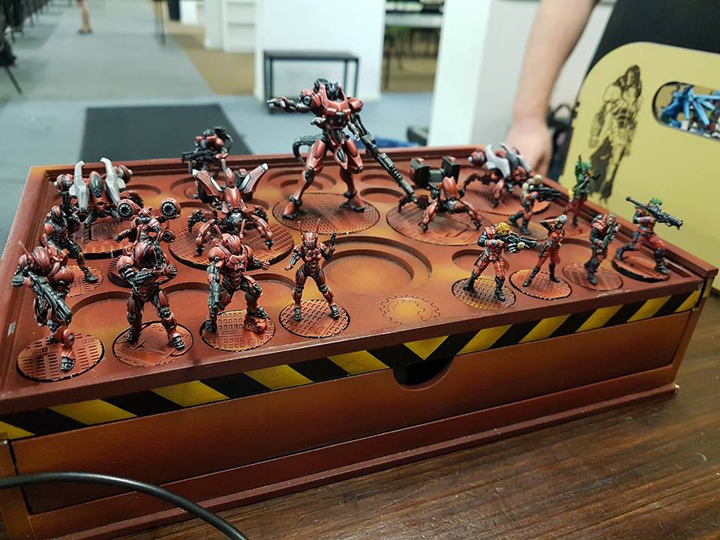 The GunGrave's Jurisdictional Command of Corregidor, the Winner of the Painting Competition.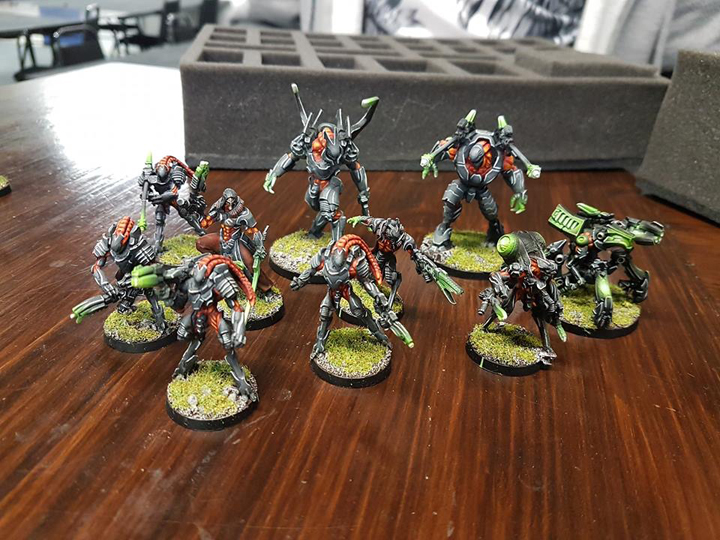 Littlespoon's Onyx Contact Force.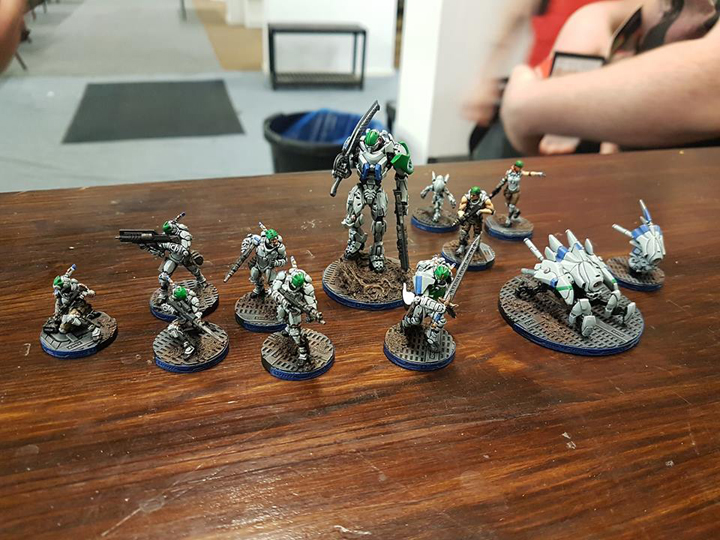 AdaptUK0's Shock Army of Acontecimento.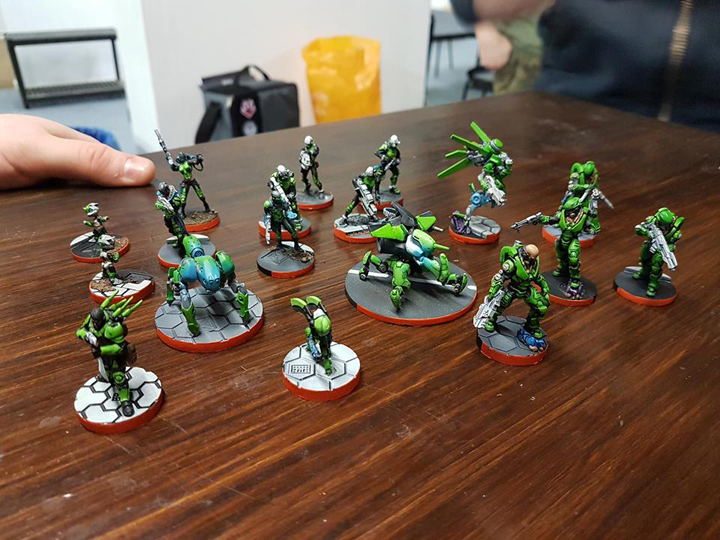 East of Irem's Imperial Service.

TO's Thoughts.
As with the previous event, the Firestorm Spring Skirmish, the 3 rounds nature of this event really hammers down the importance of playing well in each round and playing for maximum objective points and victory points. As any mistake can cost you precious points which can be the difference between where you end up on the ranking board.


The Spec-Ops were a nice touch for this event, as the Cardiff Meta tends to avoid using the profile. Due to the flexible and customizable nature of the profiles, they tend to cover faction weaknesses easily and those are something we prefer to keep intact.

As a TO, one thing I really did appreciate from this event was having more people travel to our meta to play, with a few players driving for a few hours to reach us, which was great to see. Hopefully this keeps up as I run more events in the future, the UK community for Infinity is a great one. It's been a real pleasure to host these events and I'm looking forward to the next one!