Magic the Gathering Tuesday Draft
Ref: MtG Organised Play in The South Wales Gaming Centre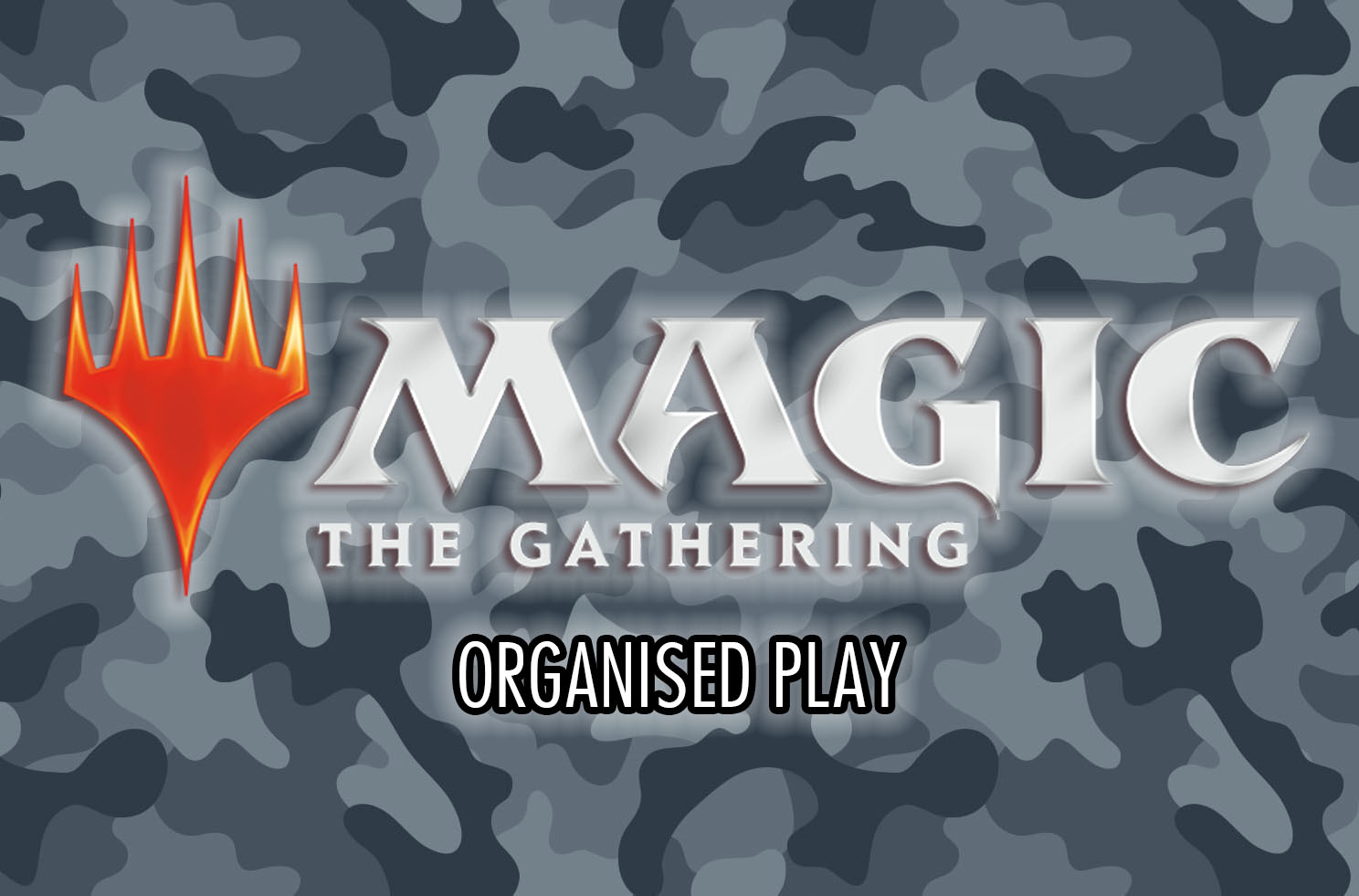 | | |
| --- | --- |
| Event Date | Tuesday 30th Nov 2021 |
| Event Time | 6:00 PM |
| Event Duration | 4 Hours |
| Players per Ticket | 1 |
£14.00
16 of 16 tickets left
Magic the Gathering Draft every Tuesday in a fun friendly environment!
Registration is from 18.00.
Three 50 minute rounds.
To ensure a better gaming experience please download the MtG Companion App BEFORE arrival at the venue.
https://magic.wizards.com/en/products/companion-app
Tickets must be purchased before the start of Registration.
Please refer to the SCHEDULE tab below for important information on the Covid protocols in place at the venue.
For the comfort and safety of all our patrons and staff the following protocols will be in place until further notice:
Face masks MUST be worn in The South Wales Gaming Centre when not seated at a gaming table.
Face masks are not required if there is a valid medical reason or when eating or drinking. Children under 11 are not required to wear face coverings.
Players MUST purchase a relevant ticket, online, BEFORE entering the venue. Tickets can be found at www.thebattlefields.co.uk. The only exception are Casual Card Game tickets which can be purchased at the venue.
Please follow ALL instructions from staff when in the venue.
Players are encouraged to use the NHS Covid-19 APP on arrival at the venue. The QR code to be scanned can be found at the front for the venue.
Please wash your hands regularly and use the sanitiser provided around the venue. Particularly after touching your mask.
Please do not visit the venue if you are feeling unwell or have a temperature.
The capacity of the venue is limited. If there is no ticket or the tickets are sold out it is because the space is full.
Purchasing a Ticket before arrival allows us to prepare properly and minimise any possible delay when you arrive.
We continue to operate an increased cleaning regime before, during and after the venue is open each day. Staff will regularly clean and wipe down contact surfaces.
Free Play:
For card games, board games and roleplaying games Free Play is the ability to use our tables for free if not taking part in an organised event. Free Play is available at the venue for wargaming, card games, roleplaying and board games on MONDAY and WEDNESDAY. You must still purchase a ticket online before arrival!
Battlefields Wargame Ticket:
A Battlefields ticket will allow you to use our tables and/or terrain in The Battlefields area of the venue and will offer two choices:
Entry with a current Battlefields Membership (free)
Day Membership (£4)
Battlefield tickets are generally available whenever The South Wales Gaming Centre is open.
Players with a valid Battlefields membership MUST still register by 'purchasing' a ticket before arrival at the venue. If you consistently book a place with Battlefields membership and do not turn up your membership will be cancelled.
Players MUST sign in using their Battlefields PIN code on arrival at the venue.
If changes are required to any scenery on a table these must be discussed with a member of staff.
For games such as Star Wars: X-Wing, Bloodbowl, Guildball and any GW boxed game such as Kill Team, Underworlds and Warcry; players must 'purchase' a Battlefields Entry ticket and will be allocated a suitable table on arrival.
The Arena Casual Card Game Ticket:
Players wishing to play casual card games may purchase entry at the venue.
Tickets cost £4 and are the only tickets available for sale at the venue!
Participants will receive, subject to availability, a relevant booster pack and/or promo material on entry.
Casual card game tickets are generally available whenever The South Wales Gaming Centre is open but please note table space may be restricted if specific events or Organised Play are also taking place.
Organised Play Ticket:
Organised Play is where participants can ensure they play their chosen game at a regular time and place, often receiving promotional material or relevant merchandise for participation and/or how well they do in the event.
Specific Organised Play Tickets are available from www.thebattlefields.co.uk.
The Arena RPG/Board Game Ticket:
Players wishing to play board games or roleplaying games in the venue must purchase an Arena RPG/Board Game Ticket.
Arena RPG/Board Game Tickets are available from www.thebattlefields.co.uk.
Tickets for this event are non-refundable.
Three booster packs per player for drafting.
One booster pack per player is added into the prize pool.
Players keep the cards they draft.
Our on site Cafe facility will be open for the sale of a variety of hot food.
A vending machine selling soft drinks and snacks, a licensed bar and a vending machine dispensing fresh tea and coffee is available in The South Wales Gaming Centre.
No external food or drink is allowed in The South Wales Gaming Centre.
Firestorm Games
This event is brought to you by our experienced Firestorm Games event staff.